Florida State Fairgrounds Expo Hall
4800 US 301, Tampa, FL 33610
*Enter through 301 Entrance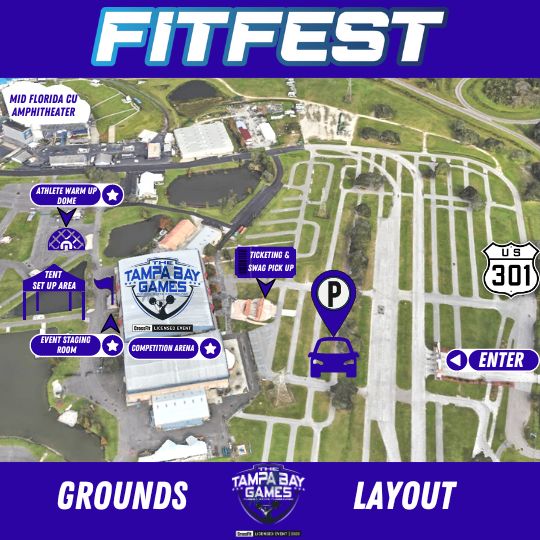 Parking
Unlimited parking is available on site. The venue charges $10 per vehicle, per day to park. This applies to all athletes and attendees. We do not profit from parking.
Event Day Times
*Approximate times. Subject to change*
Doors open for athletes at 7:00am
Saturday, August 19: Teams, Novice Individual, and Elite Individual 8:00am-5:00pm
Sunday, August 28: Individual (Except Novice) 8:00am-5:00pm
Podium: Immediately following each event
Check-In
There is no designated arrival, check-in time, or athlete briefing. Athletes can arrive any time before your WODs and check-in at the athlete check-in/swag pick up location outside the main entrance of the expo hall. Look for the check in booth labeled "CrossFit Check In." Here you will receive your wristband, swag bag, and sign. Please keep your wristband on for the duration of the event to have access.
ALL ATHLETES HAVE FULL ACCESS BOTH DAYS.
Please review all events and standards for each WOD.
Warm-Up and Staging
We will offer an on-site warm-up area for athletes only. For safety reasons, only those registered to compete may enter this area. The athlete warm-up will be located under the dome outside the back doors of the expo hall.

Athletes are required to be at their workout event check-in location two heats before your start time. The check-in private rooms are located out the back doors of the expo hall. Look for the large flags that say, "Uptown Stage" and "Downtown Stage." Enter through the doors with the stage flags on them. Your Athlete Control manager will answer any questions regarding the event.
Scoreboard and Heat Times
Photo Packages
Photo Packages available through Jay Knickerbocker Photography:
Tampa Bay Games 2023 – Jay Knickerbocker (jayknickerbockerphotography.com)
Conduct Policy
Please be courteous to our judges and staff. They are volunteering their time to make the Tampa Bay Games happen. All judges are briefed on event specifics and standards. The Tampa Bay Games has always been a fun and family friendly atmosphere. We have a zero-tolerance policy for swearing or disrespect to our team. Anyone who violates this will be disqualified from the event.
Hang Out and Viewing Areas
We have more than one option for viewing and hanging out at FitFest. Around the perimeter of the immediate competition floor, there will be standing room only.
Overhead bleachers can be accessed by taking the steps up on either side of the expo hall. There are several thousand seats available to view events or hang out and take a rest.
Athlete Village/Tent Space: There will be space available to "set up camp." With your peeps. If you'd like to create more of a camp space, you can bring tents, tables, and chairs outside the back of the expo hall around the pond. Here you can "set up shop" and sprawl out. Please avoid staking tents as there are electric lines running under the ground.
FitFest
Tampa Bay Games takes places as part of FitFest Tampa Bay. This is one of the premier sports festivals and fitness expos in the nation. Enjoy all the activities, vendors, services, classes, and seminars the event has to offer. You can view the current floor plan and growing list of vendors here: Vendor & Sponsor Directory – FitFest (usafitfest.com)
Spectator Passes
Non-athletes above the age of 5 will require a spectator pass.
Info and passes are available here:
FitFest Tampa Bay – August 19-20, 2023, Tickets, Sat, Aug 19, 2023, at 8:00 AM | Eventbrite
Prohibited Items
Please refrain from bringing full sized coolers. With arena style venues, most outside food and beverage is prohibited. Bring food, snacks, and drinks in your personal lunch box or duffle bag.
Coming from Out of Town?
We have created a full page of things to do and events in Tampa Bay: http://www.tampabaysports.org/x/qygr7